Featured Site of the Month - Storm of the Century - February 2015
Our site-of-the-month for Februay is stormofthecenturymusic.comCreated by http://www.audiomotionmusic.com
All the songs are free, but you need to create an account.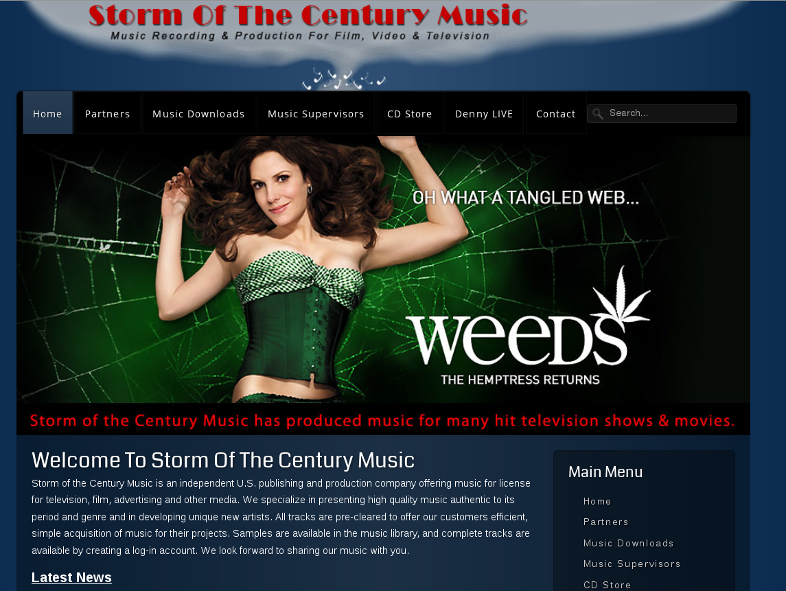 Subscription Changes
We have decided to offer a one month subscription for $20. You should be able to get going in a month!
We were offering a $5 recurring subscription but most people cancelled right away. Those of you who have not cancelled, DO NOT WORRY, you have an active subscription as long as you keep the payments coming.
With some software, you need an active subscription for it to work at all, but we decided our favourite model is: open source, reaonable price, no limit on domains/sites you can use it on, no time limit on the software and pay the guy for his time for support.
Live long and prosper,
The MyMuse team
MyMuse 3.2.10 Released
February 4, 2015
We are pleased to announce the release of MyMuse 3.2.10.
Added plupload script to ease uploads of files. Several small improvements.
Move download link to top of thank you pageAlways load profile to get any changes.
Fix shipping standard plugin.
Add link to edit profile from checkout page.
Update user profile to add multi-language "Select a country" and "Select a region".
Add Backordered text.
Change javascript in audio_html5 so much shorter.
Update mobile_css.
MyMuse 3.2.9
We are happy to announce the release of MyMuse 3.2.9
We have added the ability to select countries in the Standard Shipping Plugin so you can set up different zones.
Now you can show the number of downloads on product pages
MyMuse is now available in Spanish (Front end only) and Portuguese-Brazil (Front end and Admin!).
A big thank you to Robson Trevizani for the Portuguese and to Willem van Doorn for the Spanish.
We have updated all our language packs to have the latest additions.
This relese contains many small fixes and improvements and better views.
More Articles...