Featured Site: NexGenMusicGroup
An amazing site featuring the different labels of NexGen Music Group: NexGen, Migration and Affectionate Grooves. Owner Daniel Clarke has done amazing things using the Mixitup Javascript library with MyMuse to create a site that is visually beautiful and so easy to use. His customizations of the views for categories, individual products, cart and mini-cart have brought MyMuse to the next level. All cheers for NexGen!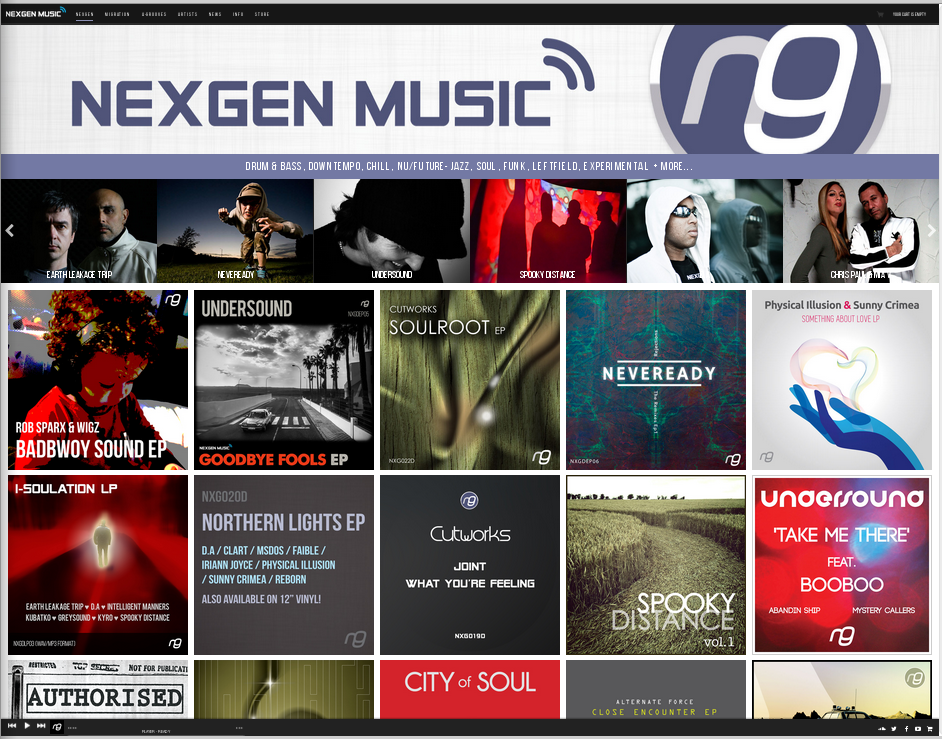 MyMuse 3.3.3 Fixes Session Bug
Since the arrival of Joomla 3.6, the way the session user is saved has changed. MyMuse now saves profile information in a separate session variable.
If you were using the 'no-registration' option, please upgrade immediately. Otherwise you will notice all orders being made by 'Guest Buyer' instead of the customer's actual name.
Download it here.
Version 3.3.2 Released
10 September 2015
We are happy to announce the release of version 3.3.2!
A new Discount Plugin gives webmasters great flexibility in marketing their wares. Apply discounts based on the cart total or number of items. Calculate the discount based on a percentage or a fixed amount.
We have added more payment plugins!
PayPal Express checkout allows customers to pay quickly with their paypal accounts. They go to PayPal to log in and check their account and shipping address. When they click "Pay Now" it is all done in the background and they return to your Thank You page.
PayUnity: With the superior PayUnity portfolio you can deal with more than 300 million customers and businesses in Austria and Europe.
If you have the latest release (but earlier than build 1556) please download again and update your installation. Or you can grab the new versions of plugins here http://mymuse.ca/subscribe/downloads/mymuse-3-add-ons/mymuse-3-add-ons-3-3-2
Release notes:
New Discount plugin, set discount based on number of items OR total in cart and give discount by fixed amount or percentage.
Update PayPal and PayPalPro.
Show coupon link on checkout page.
Fix mini-cart for mobiles
Make sure taxes are published before applying
New Payment plugin: PayPal Express Checkout.
New Payment plugin: PayUnity
Fix PayPal and PayPalPro plugins to work with new Discount plugin
You must be logged in with a subscription to see the files.
Version 3.3.1 Released
We are pleased to announce the release of MyMuse for Joomla version 3.3.1.
Fixes and updates:
Update audio/video html5 for https calls
Fix "Latest" module to show horizontally
Change paypal to handle pending bank transfer. Leave as Pending.
Update route to find existing menus for items
Option to add a Shipping Address when using No-Registration
You must be logged in with a subscription to see the files.
Get it here.
Check out the demo http://callinish.joomlamymuse.com/
All users should update to the latest version. In your site admin, go to Extensions->MyMuse and, if you have entered your username/password for your subscription, you will be able to update with one click.
More Articles ...